Careful SBG, the all seeing eye of pershauron is trained on you: http://t.co/S6QAJz1p86 c/o @mpershan

— Dan Anderson (@dandersod) May 19, 2014

In response to the Dark Lord Pershauron, I've decided to see what feedback you all have for my current SBG setup (v 5.0).
The course is Pre-Calculus honors. There are about 40ish standards for the year. About once a week students take a test on several standards (2-4). The first time they see the standard there is no grade; this is an opportunity for the students to see where they are. I started off giving them feedback but moved to self-feedback only: when finished, they go to a feedback station (@fnoschese style), grab a colored pen, look at the key and give themselves feedback. Sometimes they work in their groups to get the feedback and I put the key up on edmodo (all the keys end up on edmodo). They keep these feedback quizzes and put them in their folder.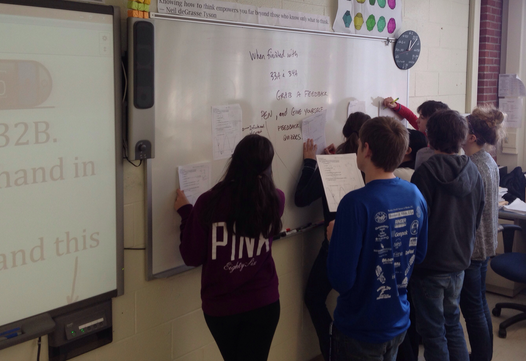 The second time they see a standard it is for a grade, normally a week or two after we've taught the topic in class (grade out of 5: 5, 4.5, 4, 3, or 2). The grade goes in the books as is. They get three reassessment opportunities per term (out of 10-15 total standards per term). They see their graded quiz, but they don't get to keep the graded assessment.
Things I need to get better at for next year:
Providing feedback myself to the student instead of just leaving it up to them. I like they they take responsibility in knowing what they know and don't know, but I don't think they are always able to give themselves the directed feedback that a teacher could give. I get a general idea of where the class is by informally going around and looking at order prednisone Canada quizzes post feedback, but I don't have the whole picture. This informal feedback has changed the class, sometimes its obvious that they've understood a topic and we can move on, other times it's clear that we need to take a different look at this material before moving on.
Thoughts? Comments? Let me have it. I see this as shot peening for my grading system. Thanks in advance!